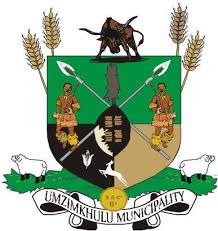 UMzimkhulu Municipality
PROVINCE OF KWAZULU-NATAL
KZN 435
KZN435/17/18/002/CORP
The uMzimkhulu municipality an equal opportunity employer requires the services of suitable qualified, skills and experienced candidate for the under mentioned challenging position.
DIRECTOR: TECHNICAL SERVICES
FIVE YEAR FIXED TERM CONTRACT
SALARY: Total remuneration package R724 816.00 (minimum) -R828 361.00 (midpoint) – R931 906.00 maximum plus 4 % remote allowance
Minimum requirements: • Bachelor of Science degree in Engineering/B.Tech: Engineering; or equivalent • 5 years' experience at middle management level, or as project/programme manager; and 3 – 4 years' must be at professional/management level engineering management experience • Compliance with the MFMA: Minimum Competency Levels in unit standards as per Government Notice No. R493 of Gazette No. 29967 of 15 June 2007 • A person who does not meet minimum competency levels in unit standards will be given an opportunity to attain the minimum competency levels within 18 months from the date of appointment.
Competencies: • Good knowledge and understanding of relevant policy and legislation • Good knowledge and understanding of institutional governance systems and performance management • Extensive knowledge of the public office environment; and able to formulate engineering master planning, project management and implementation • Certificate of Competency as required in terms of General Machinery Regulations, 1998 • Registration with a recognised relevant engineering professional body • Computer literacy • A valid driver's licence.
Key performance areas: • Management and coordination of the provision of services to local communities in a suitable and equitable manner including but not limited to • Provision of project management within the council and manage a labour force to undertake the maintenance of roads, storm water, sewerage, housing, electricity, building projects and maintenance of infrastructure • Provide reports to council • Manage consultants and Contractors working on projects • Implementation of National Building Regulations • Fleet maintenance, mechanical engineering and monitoring the implementation of IDP • Report writing to Municipal Manager, Committees, EXCO and Council • Manage the overall departmental performance.
NOTE: Qualification and SA citizenship checks will be conducted on all short-listed candidates. Security vetting will be done. Successful candidates will be subjected to additional checks including competency assessment. It is the applicant's responsibility to have foreign qualifications evaluated by the South African Qualifications Authority (SAQA). The successful candidate will be required to sign an employment contract before commencement of duty, a performance agreement and disclosure of financial interest.
CLOSING DATE: 16 AUGUST 2017.
Enquiries can be directed to: The Corporate Services Manager, tel: (039) 259 5019.
All Applications should be made on the Application Form for Employment which is available from the Municipality website. Applications with comprehensive Curriculum Vitae and application letter, certified copies of education qualification must be addressed to: The Municipal Manager, Attention: Corporate Services Manager(Ms N.N. Nduku), UMzimkhulu Municipality, P O Box 53, UMzimkhulu, 3297 or hand delivery to: 169 Main Street, UMzimkhulu Municipality old building to the Corporate Services Manager.
No faxed or e-mailed application will be accepted.
Canvassing support from Municipal officials and councillors is prohibited and any person found guilty thereof will be disqualified with immediate effect.
The uMzimkhulu Municipality is committed to achievement and maintenance of employment equity and diversity especially in respect of race, gender and disability, people with disabilities are encouraged to apply and state their disability.